P&K 3781 (VDI 3781 2)
Graphic illustration of the course
Product has been archived / Produkt wurde archiviert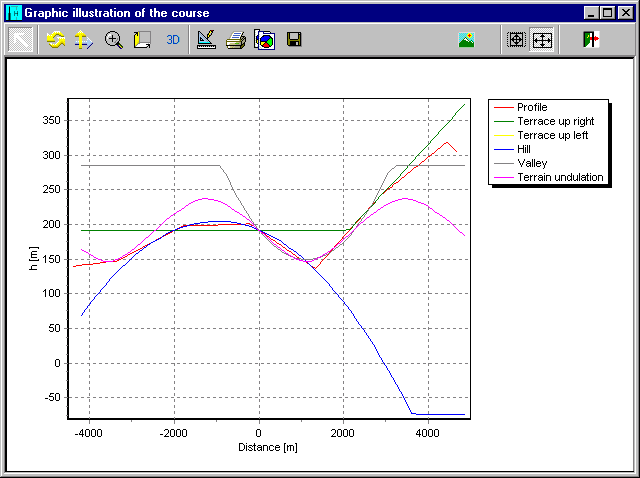 Graphical illustration of the terrain profile and the schemata.
Zooming
Most of the illustrations can be zoomed; therefore a rectangle has to be opened with the mouse from the upper left corner to the lower right corner. To reset the zoom, a rectangle from the lower right corner to the upper left corner has to be opened with the mouse.
Panning
The graphic can be moved; therefore the graphic is to be dragged with the right mouse button down.
MAX
With the button MAX the scale settings are maximized.
ISO
The graphic can be illustrated isometrically by using the button ISO. This has to be repeated after changing the size of the graphic.
3D/2D
The button 3D/2D toggles between 2D and 3D mode. The three-dimensional illustration is only for analysis purpose and not really meaningful for a documentation.
Edit (Layout, Export and Format)
By using the Edit button, a form can be opened in which more graphic parameters can be set. This function is meant for final detailed work and these settings will not be stored.
Print
If the button

is available and pressed and the graphic is not in 3D mode, then the form Scaled Printing will be opened, else a preview and setup dialog will be opened, in which printer settings and layout can be modified and the print can be initiated.
Rotate, Move, Zoom and Depth
These buttons turn the graphic into 3D-mode. These functions are only for analysis purpose.
Clipboard and Export Formats
With the button

Copy, the graphic can be copied to the clipboard. The graphic is then available to be pasted into other windows programs. The graphic can be copied in different formats:
In the Bitmap format, every pixel of the image is copied. This can be pasted in almost every program, but when scaling it, the results may be unsatisfactory.
In Meta file format, lines are stored as vectors and are therefore scalable.
The graphic format can be set in

Edit/Chart/Export.
Background Image
A background image can be set here. See Background Image