P&K AST (TA Luft 2021 / AUSTAL)
Substances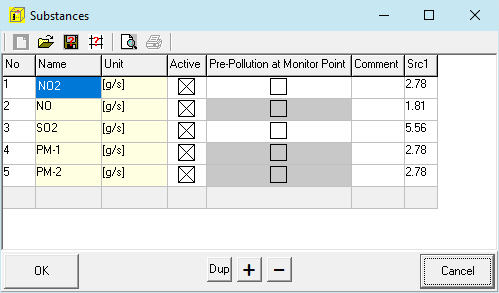 In this form the substances, for which the dispersion calculation is to be accomplished, can be defined.
No
Order Number, assignment will change when rows are inserted or tables are sorted.
Name
Name of the substance. Substances can be selected from a pull-down list. Changes are not possible, if Pre-Pollution at Monitor Point is checked.
Unit
Unit of the value entered under the source. The value is converted internally to g/s except for Odor.
Active
With this switch one substance with all dependent variables can be switched off. It is not considered thereby in the computation.
Pre-Pollution at Monitor Point
With this switch, columns for this substance, all sources and monitor points will be generated in Inputs/Edit Timeline. Applies only to substances, which have a short time characteristic in accordance with TA Luft 2021.
Src1, Src2
In these columns the Emission Rate can be set. Src1 and Src2 are the source names from the form Sources. A value NAN (NOT A NUMBER) indicates that this substance is time or situation-dependent. Also see: How to declare components as situation-dependent and How to declare components as time-dependent.
Comment
Describing Text. The Comment will not shown in the Report by default, but can be added in the Setup in the Report.
---
Also See: Operation within the tables