P&K KFA (VDI 3781 part 4)
Add Chimney to building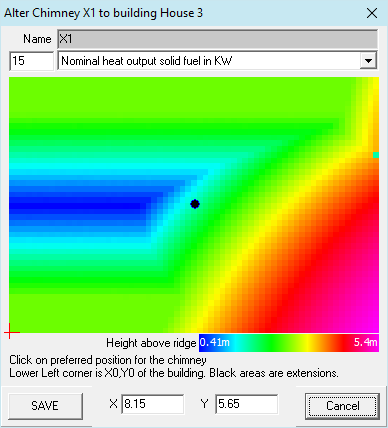 To the previously selected building, a location for the discharge device can be selected by clicking on the height distribution on the roof surface. Black areas represent extensions that can not be selected here.
Clicking on a discharge device opens this form and the attributes of the discharge device can be changed.
Height above ridge
Color scale of the expected height above ridge.
Name
Name of the discharge device for reports
X, Y
Position of discharge device on roof (visible after selection and editable)
+
Anchor point (X0, Y0) of building
Note: This form opens with a click on

"Add Chimney to building" in der 2d-View.
Version 2.13
Blocks
Takes for the block creation the dependency of the shimney location into account.
No longer switchable here, even thought its slow if block creation is on.