P&K KFA (VDI 3781 part 4)
Simulation
(Expert Mode)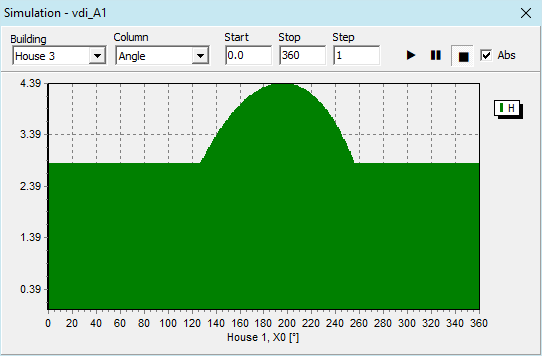 This is a form in which real values of a building can be varied and the course of the chimney height over ridge is illustrated. The simulation is started with the play button. It can be interrupted by pressing pause or stop. If the pause is pressed while no simulation is in progress, single steps are performed. With pressed CTRL key it goes backwards.
Start
Minimum value of the selected column.
Stop
Maximum value of the selected column. The value must be greater than Start.
Step
The step size.
Column
For this column, the real value can be varied. If the angle is selected, the building is rotated around its center!
Building
The building to be varied.
Abs
Absolute value or relative to the existing column value (shown below).
Note: The expert mode can be activated under Preferences.