P&K ODOR
List of sources
Product has been archived / Produkt wurde archiviert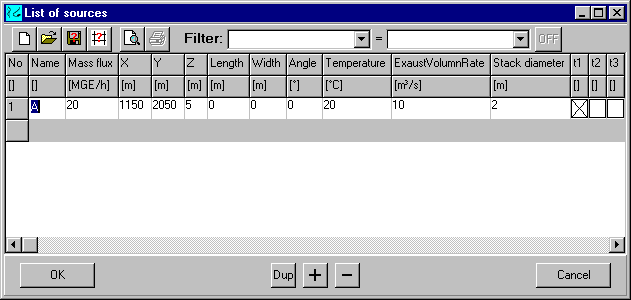 Name
Name of the source
Mass flux
Set the mass flux of the source here.
X,Y,Z
Set the X- and Y-coordinates of the source center.
Length, width
The expansion of the area sources in X or Y-direction can be set here.
Angle
Set the angle of the ordinates of the area sources to the system of coordinates (counter-clockwise) in degrees.
Temperature
The temperature of the waste gases is to be set here.
Exhaust volume rate
Set the exhaust volume rate of the waste gases (standard state).
Stack diameter
The stack diameter is to be set in meters.
Periods t1 to t5
For each source, the periods and the emission durations involved, can be set here.
see Program description 3.4. Sources and Operation within the tables