P&K TAL2K (TA Luft 2002 / AUSTAL)
Derived Components
New Version P&ampK AST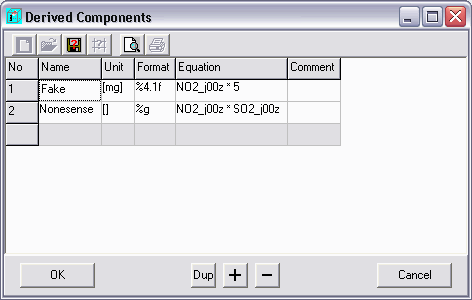 Calculate derevid components.
No
Order Number, assignment will change when rows are inserted or tables are sorted.
Name
Unique descriptor for a data set.
Unit
Unit of the new value.
Format
Put %f4.2f to get a 4 character number with 2 digits fraction or %g to get the shortest number possible to an internal precision or state 6 digit precision with %6.g.
Equation
Equation to create new values from combined values of a table e.g. NH3_depz*NH3_j10z etc.
New: Characteristics may be combined form equivalent tables, this would be e.g. NH3_depz and NH3_deps or NH3_j00z and NH3_j00s.
Comment
Free text
---
Also see: