P&K 2714
Parameter of the characteristic output
Product has been archived / Produkt wurde archiviert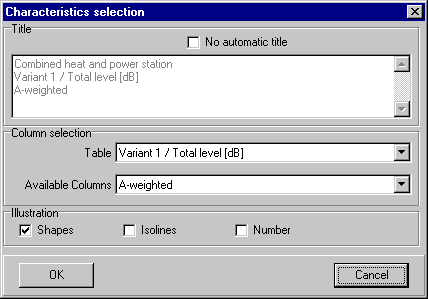 Select kind of results and how to display them.
Title
A multiple line text can be entered here as the graphic title. The default title is the project title found in the project file.
Subtitle
A multiple line text can be entered here as the graphic subtitle. The program generates several lines automatically. This can be turned off by selecting "No automatic title".
No automatic title
Turns off the automatic subtitle generation of the program and enables the user to set an individual subtitle. In this case, the display factor will no longer be added.
Warning: This can cause unexpected results, when the configuration is saved and used with other data. The old sub-title will be displayed! The current configuration will be saved into the project file!
Selection of characteristic / table and column
In the two selection lists, the available characteristics can be selected for graphic illustration. In addition, a third selection box can appear, which might control e.g. the height layer.
Illustration
Selection list of the diagram. Here it can be selected between area map, ISO lines, number notation and color surface representation. The area map is represented, if nothing was selected. The numeric representation can overlay to the isoline or colored shape illustration.